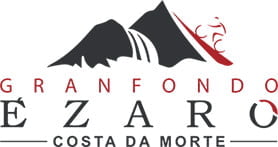 The Gran Fondo Ézaro is a popular cycling event that takes place in the incomparable A Costa da Morte, an area in Galicia, which is an international tourist attraction not only because of its landscape and cultural values but also because of its high number of visits from pilgrims and tourists
It will be the only event in Spain, in 2018, that will form part of the international circuit UCI Grand Long Distance World Series, developed by the maximum cycling world organism, that includes the most prestigious cycling events in the world.

LOCAL TOWNS
Dumbría, Muxía, Cee, Muros and Carnota are towns that the race covers and actively supports the event.

CALENDAR
All the dates that you should make a note of throughout 2018.

REGULATIONS
Consult the regulations, so you can be updated on the rules and conditions of the event.

SERVICES
Timing, provisioning, trade show display, parallel activities, mechanical assistance…

HOW TO GET THERE
Where start and finish lines are, trade show displays designated parking areas, accommodation…

ENVIRONMENT
Our commitment with nature and with environmental preservation.