GRAN FONDO ÉZARO > THE EVENT


Gran Fondo Ézaro is a masive popular cycling event that takes place in the incomparable Costa da Morte, in Galicia (Spain). An incredible landscape, cultural and heritage values of first order and a spectacular and demanding route make this a unique event.

The route of the 2019 edition runs through the municipalities of Dumbría, Muxía, Muros, Cee, Carnota and Mazaricos, up to a total of 150 kilometers in the case of the long route and 85 for those who choose the short one.
On July 7, more than a thousand cyclists will return to the roads of this spectacular area, forming the largest squad in Galicia, to live a new day of sport and celebration.

The objective participants of the Gran Fondo Ézaro are a select type of cyclists, as the characteristics of the route require an adequate physical condition that implies constant preparation, dedication and effort.

To its demanding journey, ending in the mythical viewpoint of Ézaro, the environment, the values promoted by the organization and the name that, with the successes reaped and the endorsement of the UCI, have won the event, attracting athletes from all over Spain and beyond our borders.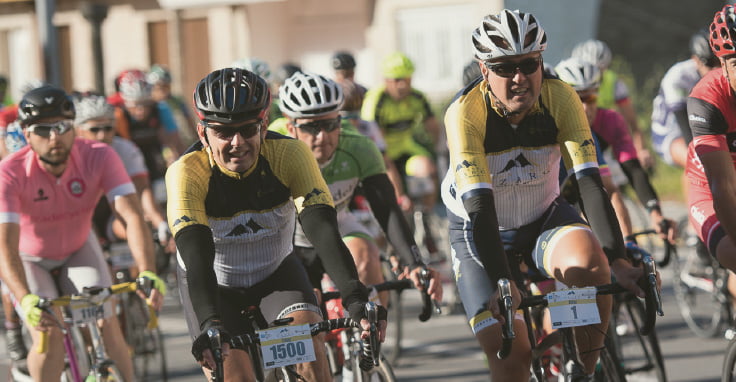 More than a thousand cyclists added colour and vibrance to the roads of A Costa da Morte, thanks to the Grand Long Distance Ézaro, an event the galician cycling enthusiasts cannot miss, which in this occasion was crowned by the 5 times Triathlon World Champion Javier Gómez Noya. DIARIO SPORT


---

The Grand Long Distance Ézaro event will broaden its curriculum, thanks to the participation of historical cyclists, such as the 5 times Tour de France Champion Miguel Induráin or the Italian Claudio Chiapucci. DEPORTES CUATRO


---

Alex Zülle and Tony Rominger relived once more their strive on the galician roads of A Costa da Morte, as they had done in the Vuelta a España in 1993. DIARIO AS